One of the most important aspects of preventing violent crime is to understand the psychology of criminals. It is for this reason that the Federal Bureau of Investigation (FBI) maintains three Behavioral Analysis Units (BAU). Depending on the BAU they are employed in, FBI Behavioral Analysts can study the psychology behind acts of terrorisms, crimes against adults and crimes against children.
Because the work of an FBI Behavioral Analyst is so crucial to understanding and preventing crime, only the most elite professionals are chosen for this career. If you have an interest in the psychology of crime and desire a career with the FBI, read more about what a FBI Behavioral Analyst does and how you can become one.
Get Your Degree!
Find schools and get information on the program that's
right for you.
(It's fast and free!)
Career Duties of a Behavioral Analyst
When you work as a FBI Behavioral Analyst, your primary job duty will be to work alongside domestic and international law enforcement officers to solve crimes. Once a crime has occurred, you will attempt to recreate a crime scene for information gathering, and then will use this information to create a psychological profile of potential suspects. These profiles allow law enforcement officers to identify and apprehend dangerous criminals.
The types of cases you will work on as a FBI Behavioral Analyst will depend on which BAU you work for. For instance, if you work for the counterterrorism section of the BAU, your job task will be anticipating terrorist threats. On the other hand, analysts may assist with violent crimes, kidnappings and other serious issues. Because a FBI Behavioral Analyst can fill many different roles, you would usually have some sort of experience before entering this field.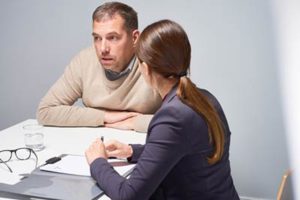 Common Behavioral Analyst Tasks
Similar to almost every position within the FBI, Behavioral Analysts are responsible for a wide range of duties. Understanding the different tasks that you may be required to perform as an FBI Behavioral Analyst is an important step when you're considering this law enforcement career path.
As mentioned, the principal duty of a Behavioral Analyst is to use available data to recreate crime scenes and to develop criminal behavioral profiles that will be used to capture offenders and prevent further crimes.
In addition to these chief goals, a FBI Behavioral Analyst must also be able to coordinate with a wide range of law enforcement organizations, speak directly with criminals in order to understand their behavior, maintain a database with information about violent crimes and acts of terrorism and be able to accurately perform risk assessment on individuals and organizations.
Before becoming an FBI Behavioral Analyst, you will usually work as an FBI Special Agent for a period of three years.
Salary of a FBI Behavioral Analyst
The Behavioral Analysis Unit is a government agency, which means the majority of its employees are paid using the General Schedule (GS) scale. If you are an FBI Behavioral Analyst that regularly works in the field, you can expect to receive pay between GS-10 and GS-13, with the potential to be promoted to GS-14 or GS-15. If you work for the BAU but are not a FBI Special Agent, you will not be paid using this scale.
With a background in psychology and the ability to understand and anticipate human behavior, you can become an FBI Behavioral Analyst.