As a national and even international agency within our federal government, The Federal Bureau of Investigation has a broad range of locations throughout the nation. Special Agents from the Bureau need to be deploy to any place at any time, whenever they're needed, so the more field offices the FBI has, the better off they are in terms of operations. If you're considering a career as an FBI agent and are wondering where you might be stationed, here's an overview of the various locations maintained currently by the Bureau.
FBI Headquarters and Locations
The current FBI Headquarters is located in Washington, D.C. between 9th and 10th Streets. It is in the vicinity of three different Metro stops on the Orange/Blue, Red and Yellow/Green lines. The agents who work at FBI HQ in Washington are responsible for organizing, directing and coordinating Bureau activities all over the world.
Specifically, these responsibilities include setting Bureau policies and priorities, ensuring coordination and centralization of activities, acting as an intelligence and information hub in the War on Terror, providing administrative and operational support and leading the Bureau in times of national emergency, disaster and crisis situations.
At one point in time, the public could visit and tour FBI Headquarters, but this function has ended following the events of 9/11 due to national security concerns. However, the Bureau has opened the FBI Education Center that is open to the public and helps to provide education and knowledge about the Bureau's history and current operations.
Find schools and get information on the program that's
right for you.
(It's fast and free!)
Featured Schools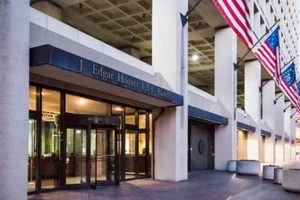 FBI Divisional Headquarters
The FBI continues to grow in scope and reach, and as such, it was required that more than a single headquarters be maintained. Thus, certain functions formerly within the main HQ have moved to other locations. Currently these include:
In addition, certain facilities around the nation house operations that include computer forensics and other specialized activities.
FBI Field Offices and Resident Agencies
The responsibility that the FBI takes most seriously is protecting communities and citizens across the United States from terrorism, organized crime, and those individuals and organizations who would violate our civil liberties and do us harm. To this end, the Bureau has established field offices all over the nation.
These offices are central staging points from where investigations are staged, resources are available, and all regional operations are coordinated. Currently, there are 56 field offices throughout the United States and Puerto Rico. In addition, there are roughly 380 smaller resident agencies scattered across the nation in smaller towns and cities, overseen by supervisory agents.
Discover criminal justice & law enforcement programs that are a match for you!
Where Will I Be Stationed?
This is the question that every recruit wants to know: Where, among all the FBI headquarters and locations, will you be stationed? The truth is, all agents must be flexible because you could be asked to relocate anywhere at any time—not just in the U.S. but sometimes to command posts abroad. The job of an FBI agent is exciting and rewarding, but requires flexibility and a desire to travel and see the world.