Are you fascinated by a career with the FBI, but you're not sure if you've got what it takes, or if once inside you'll determine that it may not be for you? The good news for students is that there is an outstanding way to get an inside perspective on how the FBI works, as well as gaining valuable experience that can look great on a resume or lead to a career right after you graduate.
These experiences are available through FBI internship programs. Learn about FBI internships, the opportunities of which you can take advantage, and the unique career potential accessible to students from all walks of life.
FBI Internships
The experience of FBI internships deliver insider perspective on the operations of the FBI and grant opportunities unavailable anywhere else. Best of all, they're tailored towards the skills and outlook of each individual student, and can even lead to a job right after graduation via the Bureau's College Hiring Initiative. However, obtaining such an experience is a highly competitive process.
Currently, the FBI offers three different internship programs:
Honors Internship Program
Collegiate Hiring Initiative
Visiting Scientist Program
Find schools and get information on the program that's
right for you.
(It's fast and free!)
Featured Schools
This competitive program comprises 10 weeks and is a paid program targeted at both college undergraduates and graduate students. Interns will work alongside FBI staff in Washington, DC, or at local field offices throughout the nation. Students from a wide variety of academic areas can take advantage of the direct expertise and experience of FBI agents if they qualify.
Applying for this program begins in August, and applicants must be current full-time college students who are U.S. citizens and maintain at least a 2.95 cumulative GPA. In addition, you must pass all background check requirements and be eligible for Top Secret security clearance.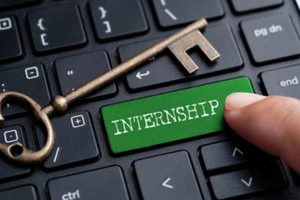 College Hiring Initiative
The college hiring initiative is the FBI's recruitment program for graduating college students or those who have a college degree of at least baccalaureate level within the past two years. This program brings new professionals in who can apply their unique skills towards supporting FBI operations.
Support responsibilities could be through analyzing processes, helping to assess security, offering business support, and many other important functions within the Bureau, as well as an easy path towards transitioning into formal FBI career paths and other unparalleled opportunities.
Visiting Scientist Program
The FBI Visiting Scientist Program allows the opportunity to work inside the FBI Laboratory, which is one of the most advanced crime labs in the entire world and the heart of the FBI Counterterrorism and Forensic Science Research Unit, or CFSRU.
Discover criminal justice & law enforcement programs that are a match for you!
The program is open to faculty, recent graduates, postdoctoral fellows, and current graduate and undergraduate students who are interested in unparalleled work experience. Those in the program will work with state-of-the-art scientific technology and equipment to conduct research and aid with research initiatives. The program ranges from one to five years.
How Can I Apply?
Students can learn more about applying for any of these important opportunities at the FBI's jobs website, including a detailed look at requirements and the application process. If you'd like to explore FBI internships, check it out today!