The tactical section of the FBI's Critical Incident Response Group (CIRG) is dedicated to ensuring the safety of American citizens both domestically and internationally, and no tactical operation group is more important in fulfilling this mission than Special Weapons and Tactics (SWAT).
Each of the fifty-six FBI field offices across the country possesses a SWAT team, and every team is made up of professionals who have received the most advanced training possible. SWAT teams routinely perform such operations as fugitive pursuit, hostage extraction and building assaults. Becoming a member of a SWAT team is highly competitive, and learning about some of the basic requirements can give you a head start on your career.
Get Your Degree!
Find schools and get information on the program that's
right for you.
(It's fast and free!)
FBI SWAT Basics
One of the most common misconceptions about SWAT teams is that they are made up of full-time professionals. In fact, being a member of a SWAT team is a part-time position. FBI SWAT team members are also FBI Special Agents, and are required to perform their regular Special Agent duties until their SWAT unit is called into action. Every FBI SWAT team has 42 members who have received training in areas like assaulting, breaching and basic medical care.
To become a FBI SWAT member, you must first become a Special Agent and then achieve enrollment in the Tactical Recruitment Program (TRP), which is from where SWAT members are selected. Qualifying for the TRP requires three years of experience in either the military or law enforcement, a successful interview with the CIRG and a passing grade in an enhanced physical fitness test.
After a two-year probationary period, you are eligible to be chosen for SWAT. If you are selected from the TRP, you will need to pass multiple tests to become a full SWAT member. These tests include problem solving, physical fitness, marksmanship, decision making, leadership and the ability to obey orders and techniques of arrest.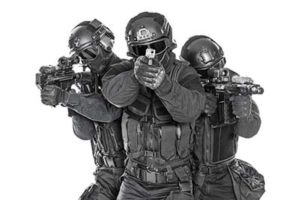 SWAT Job Description
If you become a member of a SWAT team, you will be required to engage in some of the most strenuous tasks that exist. For instance, SWAT members must be able to perform at their highest capacity for extended periods without rest, which is why a physical fitness test is required for enrollment.
Some of the common tasks that you will undertake as a member of a SWAT team can include pursuing dangerous fugitives, investigating crimes in coordination with other FBI agents, combatting terrorist operation, acquiring intelligence with advanced technology and providing medical assistance to injured members of the public and your team.
You will also be required to maintain your physical fitness and work your regular Special Agent job when not actively engaged in SWAT assignments.
FBI SWAT Payment
The payment for a SWAT team member will be determined by how long they have been with SWAT and their job responsibilities. Yearly salaries for SWAT agents can range between $61,000 for entry level positions and $132,000 for those in the most senior SWAT categories. In addition to your salary, being a member of a SWAT team entitles you to a benefits package that includes items like health and life insurance, as well as occasional paid leave.
With tactical experience, physical stamina and the right training, you can become a member of FBI SWAT.