Weapons of mass destruction (WMD) pose a large threat to the general public. Whether nuclear, biological or chemical, WMDs can cause a tremendous loss of life if left unchecked, and it is for these situations that the FBI maintains its Hazardous Materials Response Unit (HMRU).
The HMRU is called into areas where there is likely to be an active explosive device, and examines the situation to determine the level of risk and how to best handle the device to maintain public safety. Because the HMRU career deals with some of the most dangerous devices and materials that exist, only elite individuals are employed in this unit. Learning about the job role of the HMRU should be your first step in pursuing a career with this section of the FBI.
Get Your Degree!
Find schools and get information on the program that's
right for you.
(It's fast and free!)
The Role of the HMRU
The HMRU will travel to any area where there is a suspected WMD that poses a significant risk to the public. Once they arrive on scene, the HMRU will examine the suspect device and if the device is determined to be dangerous, the Unit will respond accordingly.
When a dangerous device is detected, the most important responsibility of the HMRU is to prepare it for safe transport to an FBI facility where it will be fully evaluated. Because of the sensitive nature of the work performed by the HMRU, the process of securing and transporting WMDs is fully documented. This both ensures a higher level of public safety and is important for building criminal cases against whomever planted the device.
The HMRU has been in operation since 1996 and its staff is made up of analysts, scientist, logisticians and FBI Special Agents.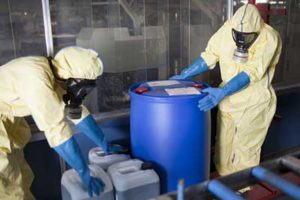 HMRU Job Tasks
When you are employed with the FBI as a member of the HMRU, you will need to have an advanced knowledge of different types of WMDs and the right way to respond to each type of advice. HMRU operatives also must understand the variety of hazardous materials they may encounter and the right way to protect citizens from these hazards.
In addition to specialized knowledge, HMRU staff members must possess high-level skills that allow them to work with dangerous devices. For example, HMRU professionals must be able to defuse explosive devices, eliminate threats from toxic materials, be able to trace explosives and toxic materials to criminal suspects and should be able to perform typical forensic investigation tasks that may result in evidence to be used for a trial.
The job duties of an HMRU team member are often extremely dangerous, which is why those in this profession are so highly trained.
HMRU Salary
The HMRU staff is comprised of a wide variety of professional, which means there are also a wide variety of pay levels for this section of the FBI. However, all HMRU team members will be paid based on the General Schedule (GS) pay scale.
Unlike typical FBI Special Agents, who are graded GS-10, Special Agents working with the HMRU are considered either GS-14 or GS-15. Other members of the HMRU can expect a pay level between GS-7 and GS-14 depending on their experience, position within the unit and educational level.
If you want to protect the public from the most serious weapons possible, you need to become a member of the Hazardous Materials Response Unit.