If you're looking for an interesting and important career in Illinois, one of your best options is to apply to work in the Federal Bureau of Investigation (FBI). The FBI is perhaps the most important law enforcement agency in the country, pursuing dangerous criminals and protecting the country's citizens from acts of terrorism.
More than almost any other career, becoming an FBI agent is a time consuming, difficult process. In order for an application to be considered, you will need to meet all of the requirements the FBI considers important to a successful agent.
FBI Agent Requirements in Illinois
Basic Requirements
Certification: There is no certification process when becoming an FBI agent.
Age: The FBI maintains strict age requirements for its agents. Agents should be over the age of 23 but under the age of 37. Waivers are sometimes granted for candidates older than 37.
Licensure: There is no license you must obtain before applying with the FBI.
Degree: Like most careers, being an FBI agent has a minimum education requirement, which is a bachelor's degree earned at an accredited university.
Experience: Professional experience totaling three years is required before the FBI will consider your application.
Citizenship: The FBI limits employment to United States citizens.
Find schools and get information on the program that's
right for you.
(It's fast and free!)
Featured Schools
Additional Requirements
Flexibility: FBI agents must be flexible in terms of where they are willing to live and work, as you will often be required to relocate to a field office away from where you currently live.
Background: FBI agents can have no felonies on their record, no history of drug use, no failure to pay child support and must have registered for selective service. To prove this, you will be required to submit to an intensive background check.
Fitness: Only candidates who are able to pass a physical fitness test will have their applications considered.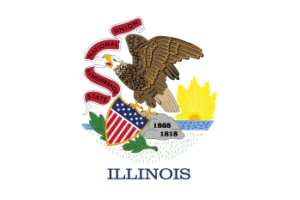 Application Process in Illinois
Application: You should expect your application process to take at least a year. During this year, you will have to complete a three hour exam based on cognitive ability and logical reasoning, a ninety minute writing exam and two interviews, one formal and one informal. If your application is approved, you will take part in basic field training, and if you graduate, you will be a probationary FBI agent. Probation lasts eighteen months.
Illinois FBI Agent Education
The FBI does not require that its agents have a specific degree, only that they obtain a bachelor's degree from an accredited school. However, the FBI does look for agents with backgrounds in foreign languages, law, engineering, accounting and science.
Discover criminal justice & law enforcement programs in Illinois that are a match for you!
Major Cities in Illinois
2.7 million people live in Chicago, Illinois's largest city.
Proviso township is home to 151,704 residents.
The third largest Illinois city, Rockford, has 150,251 residents.
What Does an FBI Agent Do in Illinois?
The FBI is, above all else, a law enforcement organization that handles multiple types of crime. FBI agents investigate crimes and track and arrest dangerous criminals. Common legal areas the FBI is involved in include public corruption, cyber crime, white collar crime and violent crime.
FBI agents also work to prevent acts of terrorism, both within the United States and abroad.
Working out of field offices across the country, the FBI organizes investigations alongside local law enforcement officials.
Related Careers
Anyone who works in law enforcement will have similar responsibilities to FBI agents, including investigating crimes and protecting the public from dangerous officials. Private detectives and cyber security professionals can also be similar to FBI agents.
Employment Numbers in Illinois
No employment numbers are available to the public for FBI agents, although estimates point to thousands of agents working to keep the country safe. There are two FBI field offices in Illinois, one in Springfield and one in Chicago.
Illinois FBI Agent Salary
To determine the salary of an FBI agent, you would look at the government's General Schedule (GS) payment for law enforcement officers. FBI agents are eligible to be paid at levels between GS-10 and GS-13, which can result in a salary range of $62,433 and $122,991.
Illinois Related Organizational Links
Criminal Justice Programs and Schools in Illinois
Find schools and get information on the program that's right for you.
(It's fast and free!)
Choose your area of study and receive free information about programs you are interested in. FBI agents are dedicated to America's defense and security. There are a number of careers you can pursue within the FBI with current activities focusing heavily on anit-terrorism. No matter which career you pursue becoming an FBI agent requires deep commitment and dedication. Request information from multiple schools to find the best program and educational opportunity for you!