The Crisis Incident Response Group (CIRG) of the FBI contains many sections that are responsible for responding to threats against America and its people. The section of the CIRG that is responsible for investigating and hopefully preventing violent crimes is the National Center for Analysis of Violent Crime (NCAVC).
Primarily, the NCAVC works to analyze criminal behavior by creating psychological profiles. It is for this reason that professionals working within the NCAVC are commonly known as FBI Profiles. By examining crime patterns and psychological motivations of criminals, the job of FBI Profilers is to decrease violent crime across the country and to keep citizens safe.
Get Your Degree!
Find schools and get information on the program that's
right for you.
(It's fast and free!)
NCAVC History and Responsibilities
The NCAVC has been in operation since 1984 and is the section of the FBI most responsible for understanding and combatting violent crime. Professionals of the NCAVC handle a wide range of crimes, which can include terrorism, murder, incidents involving explosives and extortion. The NCAVC is staffed by a wide range of professionals as well. FBI Special Agents, behavioral analysts and law enforcement experts.
NCAVC professionals are referred to as 'profilers' because constructing psychological profiles of criminals is a primary duty of almost everyone working at the NCAVC. By developing these profiles, the career of an FBI Profiler is working to identify criminal patterns and trends that can hopefully be used to prevent future crimes.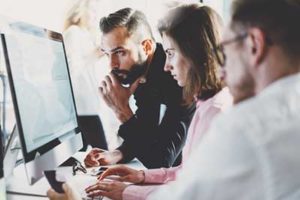 Becoming an FBI Profiler
If you're interested in becoming an FBI Profiler, you will generally need some form of law enforcement experience. The best way to acquire this experience is to first work as an FBI Special Agent. The majority of FBI Profiles will be assigned to the position after completing their entry level experience as a Special Agent.
Some FBI Profilers prefer to work in a research capacity instead of in the field. To earn a profiler research position, you will need to pursue advanced education like a Master's degree and gain professional research experience.
FBI Profiler Job Tasks
There are many important tasks that are required of an FBI Profiler. Primarily, the FBI Profiler will analyze a wide range of evidence, including photos of crime scenes and testimony from eyewitnesses, and will then construct a psychological profile of the person likely to have committed the crime. Another job responsibility of a typical Profiler is to communicate will field agents and advise them how to act after a crime has been committed.
Commonly, a FBI profiler will monitor the progress of cases and help to keep them on track. Continuing education is also a large part of being a FBI Profiler, as Profilers will need to stay informed on current investigative strategies and criminal psychology.
FBI Profiler Career Salaries
When working as an FBI Profiler with the NCAVC, your salary will usually be calculated using the General Schedule (GS) pay scale. FBI Profilers who were first Special Agents will have a minimum GS-10 salary, and can improve their grade as high as GS-13 if they work in the field. Profilers who work as instructors, managers or supervisors can be promoted as high as GS-14 and GS-15.
Work as a FBI Profiler in the National Center for Analysis of Violent Crime and you'll be able to help apprehend dangerous criminals and keep American citizens safe.