Explosive devices are some of the most dangerous weapons in existence, putting the public at risk and causing tremendous collateral damage. When an explosive device is identified in the field, the FBI calls in officers known as Special Agent Bomb Technicians (SABT).
SABTs are FBI field agents who have received specialized training that allows them to neutralize deadly explosive devices. As a SABT, you will be required to use advanced technology, engage in comprehensive training and act decisively in the most dangerous, stressful situations that a person can experience.
Get more information about becoming a Special Agent Bomb Technician with the FBI, and read about some of the tasks you can expect as a SABT.
Get Your Degree!
Find schools and get information on the program that's
right for you.
(It's fast and free!)
Becoming a Special Agent Bomb Technician
Special Agent Bomb Technicians are some of the most elite professionals within the FBI, and anyone seeking a career as a SABT will first need to complete several important steps. Before you can apply for SABT training, you will need to become a FBI Special Agent and serve in the field for a period no less than five years. Once you have gained your five years' experience, you can apply for acceptance in the FBI's Hazardous Device School.
If your candidacy to the Hazardous Device School is approved, you will be able to learn the on the job skills needed to become a successful Special Agent Bomb Technician.
During your time at the Hazardous Device School, you will receive comprehensive training related to handling dangerous explosive devices. This can include courses in neutralizing suicide bombers, identifying explosive devices and defusing strategies, working with canine bomb detection units, how to protect the public when a bomb is present and using common SABT equipment.
After successfully completing the Hazardous Device School curriculum, you will be able to work for the FBI as a Special Agent Bomb Technician.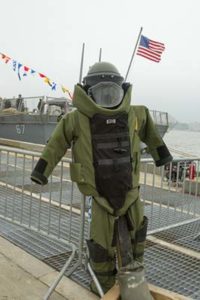 Job Duties of a SABT
Special Agent Bomb Technicians are the first line of defense against explosive devices. When FBI agents in the field notice a suspicious package or there is a possible suicide bomber, the will rely on the expertise of a SABT. If you become employed a Special Agent Bomb Technician and are called into the field, you will be responsible for assessing the risk that the explosive device poses and deactivating the device safely.
Some of the common tasks that you may be required to perform as a SABT including operating equipment like X-ray machines and bomb detecting robots, negotiating with terrorists or criminals that possess a bomb, directing emergency services on the right way to secure the public and deactivating and securing explosive devices.
You will also need to stay abreast of the latest techniques for handling explosive devices and must be achieve re-certification from the Hazardous Device School every three years.
Potential Special Agent Bomb Technician Career Salaries
Anyone who becomes certified as a Special Agent Bomb Technician will first be a standard Special Agent, which means SABT is determined using the General Schedule (GS) pay scale for law enforcement officers. Starting out, a SABT can expect a GS-10 salary between $45,771 and $59,505. As a SABT gains field experience they can be promoted to a GS-13 grade, which has a base salary of $71,674.
Earn your certification as a Special Agent Bomb Technician and you'll be able to protect the public and other FBI agents from deadly explosive devices.