The Federal Bureau of Investigation (FBI) serves to protect the United States from threats on both a domestic and international level. One of the programs designed to help move violent investigations forward is the Violent Criminal Apprehension Program, or ViCAP. The program analyzes and investigates serial violent and sexual crimes in order to prosecute repeat offenders.
The mission of ViCAP is to facilitate coordination between U.S. law enforcement agencies and to offer support so that those agencies may arrest and prosecute violent serial offenders, especially ones who happen to cross jurisdictional boundaries. Below, we'll describe more about the program's development and purpose within the FBI.
The Creation of the Violent Criminal Apprehension Program
ViCAP was first established by the FBI in 1985, headquartered Quantico, Virginia. The first appointed director was a man named Pierce Brooks, a homicide detective in Los Angeles who originally proposed the idea. Brooks came up with the idea after working the Harvey Glatman case in LA and noticing that serial murders can often be connected by their signature aspects.
In 2002, the Critical Incident Response Group (CIRG) began development on web-enabled software for the program. The software permits non-FBI ViCAP users the ability to enter pertinent data directly into an online national database which is located on servers controlled by the FBI.
Later, in 2008, the database became open to federal, state and local law enforcement agencies across the nation via a secure connection. This access enables access in real-time for different agencies so they can look for correlations and add or update existing information.
Find schools and get information on the program that's
right for you.
(It's fast and free!)
Featured Schools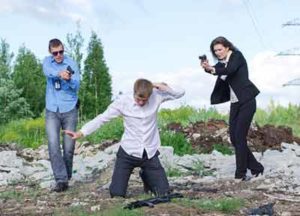 ViCAP's Function and Mission
Ultimately, the program is meant to track and correlate evidence and information on violent crimes. The database's compiled information helps in the investigation of sexual assault cases, solved or unsolved homicides and missing persons and unidentified persons cases where foul play is suspected.
Homicide cases that seemingly have no motive, that involve kidnapping or that are suspected to be part of a series are put in the database by law enforcement officials so that they may be compared to others. This compiled information can help reveal correlations or connections that would not have been apparent otherwise. As a result, ViCAP is used as a valuable tool in solving cases that are sometimes decades old or connecting crimes that happened in far-distant states.
In particular, ViCAP is especially useful in tracking and identifying serial killers or violent offenders. Victims who are separated by state lines, time or other circumstances might not be connected as being part of the same pattern if it weren't for the continuously updated online database.
Discover criminal justice & law enforcement programs that are a match for you!
The Violent Criminal Apprehension Program Network
Since ViCAP's creation, 4,000 different law enforcement groups have submitted case information to the program. Consequently, the online database currently holds more than 82,000 individual cases. This nationwide network is powerful and consists of approximately 2,700 analysts and investigators who collaborate daily.
Crime analysts or criminal investigators working for the FBI can undergo training to learn how to study the database in pursuit of serial offenders. If this sounds like a line of work you're interested in, consider becoming an FBI-appointed criminal investigator or analyst.